Create your meal plan, easily.
Set your goals. Combine recipes, foods, drinks and even supplements.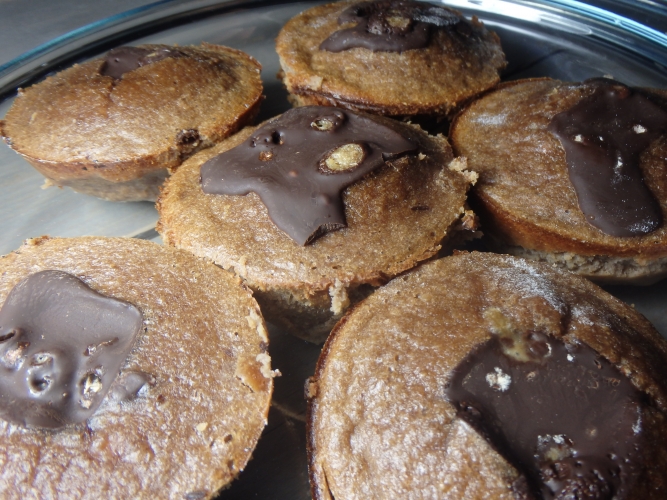 This is truly one of the best cake recipes I tried so far. Almost all recipes I tried before failed in that they were very dry. These are really moist! If you really want to treat yourself, place a little piece of dark chocolate on top before it goes into the oven. You will really like it, and dark chocolate isn't actually that bad for you. The fats in this recipes are all healthy fats, they all come from the peanut butter.
Instructions
Preheat oven at 350F or 180C

Blend the oats in a food processor or kitchen blender until fine

Mix the oats with the protein powder and the cinnamon

Add in the peanut butter and mix very well

Add the other ingredients to the mixture

Pour batter into an oven dish or muffin pan (like I did)

Put in the oven for around 15 minutes, try with a tooth pick if the cakes are ok (when it comes out clean it's ok)

Cut the bars if needed

Ingredients for
6

servings
Gold Standard Chocolate Whey

2

x scoop (30g)

Bananas, raw

3

x medium (7" to 7-7/8" long) (118g)

Egg, white, raw, fresh

5

x large (33g)

Milk, reduced fat, fluid, 2% milkfat, without added vitamin A and vitamin D

0.5

x cup (246g)

Spices, cinnamon, ground

1.5

x tsp (2.6g)

Peanut butter, smooth style, without salt

3

x tbsp (32g)
Meals with similar macros
scale: 1.3x

29g protein

53g carbs

9g fat

scale: 4x

32g protein

52g carbs

12g fat

scale: 1.6x

32g protein

54g carbs

11g fat
Nutritional Facts
per 1 serving size (unscaled)
---
Amount Per Serving
---
Calories 427 kcal
Calories from Fat 117
---
% Daily Values*
---
Total Fat 13 g
20%
---
Saturated Fat 2.61 g
10.88%
---
Polyunsaturated Fat 3.60 g
---
Monounsaturated Fat 5.06 g
---
Cholesterol 2 mg
1%
---
Sodium 60 mg
2.61%
---
Potassium 616 mg
---
Total Carbohydrate 58 g
18.71%
---
Dietary Fiber 8.28 g
27.6%
---
Sugars 14.04 g
15.6%
---
Protein 25 g
---
Vitamin A 0.89%
Vitamin C 6.25%
---
Calcium 7%
Iron 21.43%
---
* Nutritional Values are estimated and may vary