Create your meal plan, easily.
Set your goals. Combine recipes, foods, drinks and even supplements.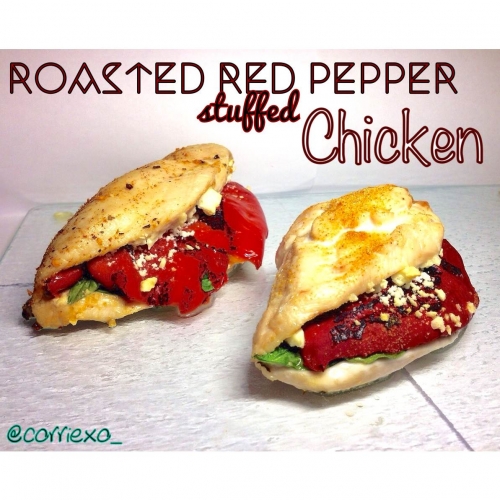 Want a delicious and guilt free dinner idea for tonight or any day of the week (its that good!!), try my roasted red pepper stuffed chicken breasts!
Instructions
Season eat chicken breast with the spices, and place baby spinach on one side of the chicken breast. Add roast red pepper on top and then sprinkle on your feta cheese. Close chicken like a sandwich, use toothpick to keep down if needed. Cook for 30 mins. Serve and enjoy!

Ingredients for
2

servings
Chicken breast, low fat

2

x fillet (100g)

Spinach, raw

0.25

x cup (30g)

Spices, garlic powder

2

x tbsp (9.7g)
Meals with similar macros
scale: 2x

28g protein

6g carbs

10g fat

scale: 1.1x

33g protein

2g carbs

1g fat
Nutritional Facts
per 1 serving size (unscaled)
---
Amount Per Serving
---
Calories 192 kcal
Calories from Fat 36
---
% Daily Values*
---
Total Fat 4 g
6.15%
---
Saturated Fat 0.35 g
1.46%
---
Polyunsaturated Fat 0.06 g
---
Monounsaturated Fat 0.11 g
---
Cholesterol 2 mg
1%
---
Sodium 39 mg
1.7%
---
Potassium 261 mg
---
Total Carbohydrate 7 g
2.26%
---
Dietary Fiber 1.80 g
6%
---
Sugars 0.55 g
0.61%
---
Protein 33 g
---
Vitamin A 4.44%
Vitamin C 2.5%
---
Calcium 3.2%
Iron 7.14%
---
* Nutritional Values are estimated and may vary